Recapping the inaugural #OpenScienceWeek and the COVID-19 research taking place at the Allen Institute.
Newsletter September 2020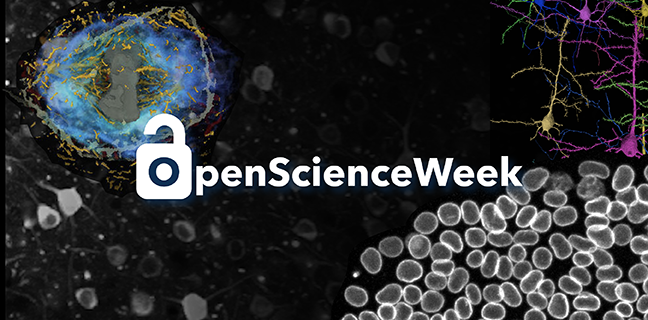 We're celebrating the inaugural Open Science Week! Our commitment to open science began 17 years ago this week. Today, the Allen Institute's openly available scientific tools, data and resources accelerate research and discovery. How does open science impact your work? Use the hashtag #OpenScienceWeek to join the conversation on social media.
Explore more ►︎

New study aims to answer pressing COVID-19 question
Researchers from Fred Hutchinson Cancer Research Center and the Allen Institute for Immunology are teaming up for a deep dive into patients' immune responses to SARS-CoV-2, to address why some people develop life-threatening symptoms while others recover with few or no symptoms. They hope the results could contribute to vaccine development and new therapies.
Explore more ►︎

Testing treatments aimed at Alzheimer's for COVID-19 patients
A team of cardiology researchers had a creative idea for a new way to treat dementia. Now they think it could help coronavirus patients too. In our latest episode of Lab Notes, an Allen Institute podcast, we sat down with cardiologist and American Heart Association-Allen Initiative in Brain Health and Cognitive Impairment awardee Mukesh Jain to talk about the links between brain health and COVID-19.

A virtual science field trip for your class
In our new webinar series for educators and students, go behind the scenes of science to meet the professionals who make our research possible and get a glimpse of the many different careers in science. These free events are open to whole classes of students in a Q&A format.

Science is everywhere. Science is all of us. See what science is to Allen Institute researchers and staff.
Watch video ►︎
Immunology institute founded by Paul Allen shifts focus to tackle coronavirus
Seattle Times, August 15, 2020
Blood Cancer Discoveries collaboration awards $6.75 million
Philanthropy News Digest, July 8, 2020
Alzheimer's Researchers Go Back To Basics To Find The Best Way Forward
NPR, June 25, 2020
Cell Exploration with ML at the Allen Institute w/ Jianxu Chen
This Week in Machine Learning, June 15, 2020
Researchers Created a 3-D Map of 100 Million Cells in the Mouse Brain
Smithsonian, May 13, 2020