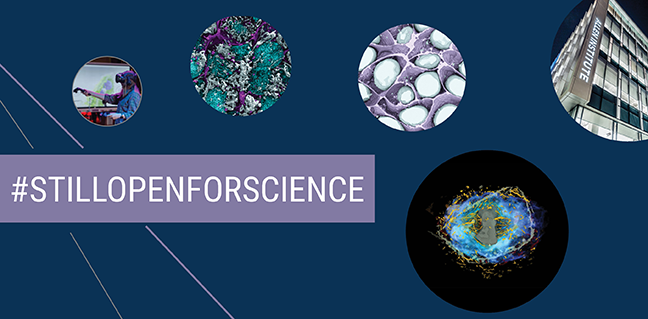 Like many research institutes around the country, the Allen Institute for Cell Science wound down its laboratory operations in March and shifted primarily to remote work in response to the COVID-19 pandemic. This was uncharted territory for all of us, but we remained very much open for science and are now contemplating our limited return to the Institute. Our researchers are working hard from home, analyzing data, synthesizing their insights into new manuscripts, and leading and participating in virtual workshops and conferences, sharing our work with the community. Of course, our cell images, data and other resources are growing and open for anyone to access remotely at allencell.org.

Cell Shorts | A new discovery about ALS
A research team at Northwestern University discovered a strange and literal wrinkle in the nuclei of neurons from ALS patients. Now, they're using resources from the Allen Institute for Cell Science to study these features in more detail.

Two new gene-edited stem cell lines have been added to the Allen Cell Collection. The first is a triple-edited cell line, in which all three subcompartments of the nucleolus are labeled: the fibrillar center, the dense fibrillar component and the granular component. The second visualizes mitochondrial nucleoids via the mEGFP-tagged mitochondrial transcription factor A (TFAM).

New Virtual Science Lab webinar series
The Allen Institute is excited to launch a new webinar series for educators, The Virtual Science Lab. We're highlighting free lesson plans that guide teachers and students through fully virtual experiments using our open data.
The first webinar in this series, "The Virtual Science Lab: Mitosis and Microscopy," features a demonstration of a ready-to-use virtual lab and lesson for intermediate or advanced high school students and college students. This lesson guides students through conducting a real experiment completely online.

Take a tour through the Cell Feature Explorer, a cell biology data-exploration tool from the Allen Institute for Cell Science, in our new video.

Recently, we held a contest for our researchers to share images they created with the pathtrace-rendering software AGAVE or the Cell Feature Explorer.
Above, the two winning images. Left: A full-field view of stem cells showing MYH10 (blue), a non-muscle myosin, nuclei (pink) and cell boundaries (green), winner of the "visually stunning" category taken by Melissa Hendershott. Right: Mitochondria (white) and DNA (green) in pro-metaphase, winner of the "biologically intriguing" category taken by Sue Ludmann.
See more beautiful cell images in the visually stunning and biologically intriguing categories.