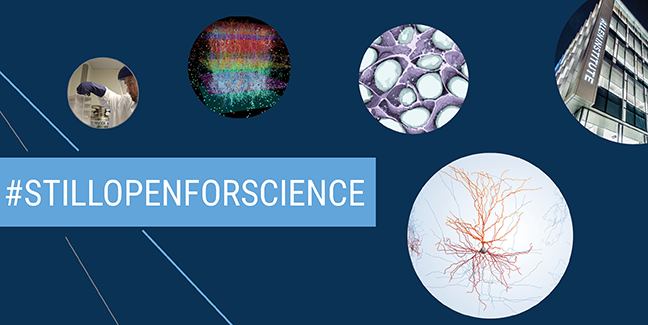 Like many research institutes around the country, the Allen Institute wound down most of its laboratory operations in March and many of our researchers and staff shifted to remote work in response to the COVID-19 pandemic. This is uncharted territory for all of us, but we remain very much open for science. While some of our lab experiments continue on-site, all our researchers are working hard from the lab or from home, analyzing data, synthesizing their insights into new manuscripts, and leading and participating in virtual workshops and conferences to continue sharing their work with colleagues. Of course, our data and resources remain open for anyone to access remotely at brain-map.org and allencell.org.

Scientists are working on a face mask that detects coronavirus
In the inaugural episode of our new podcast, Lab Notes, and an accompanying Q&A, we talk with Allen Distinguished Investigator James Collins, who is developing a protective face mask that would signal if the wearer is infected with the novel coronavirus.

Take a tour through the Cell Feature Explorer, a cell biology data-exploration tool from the Allen Institute for Cell Science, in our new video.

Did you know we have online education resources that can be used for distance learning? Our lesson plans can guide teachers through virtual experiments that hone students' data analysis and interpretation skills. Explore our education outreach page, including a new feature highlighting how educators are using our open resources in their classrooms, and learn more about webinars featuring ready-to-use lessons and virtual experiments for your classes.
WSU professors create virtual lab on cell development
WSU News, April 22, 2020
Allen Institute reorganizes brain science division, with added focus on neural computation
GeekWire, April 6, 2020
Nature, March 26, 2020
Scientists classify neurons by measuring their jiggle during a heartbeat
UPI, March 11, 2020
How to donate a piece of your brain to science—while you're still alive
Science, February 15, 2020