Read the latest from the Paul G. Allen Frontiers Group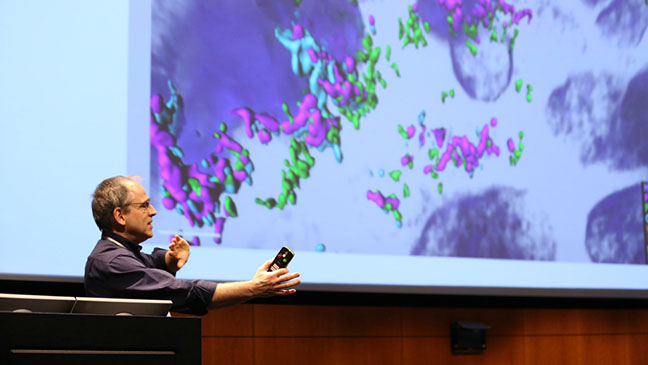 Simulations of life — in health and disease
Computational models that shed light on how we age, how cancer drugs work (or don't work), how bacteria evade antibiotics and more highlighted in a recent Exploring Frontiers symposium. See selected recorded talks from the event here.

Advancing leading edge cancer research
A three-way $4.5 million collaboration launched this summer between The Leukemia & Lymphoma Society, The Mark Foundation for Cancer Research, and The Paul G. Allen Frontiers Group will drive an innovative new funding initiative for new cancer therapies.

Allen Frontiers Symposium 2019
Join us October 16 and 17 in Boston for the 2019 Allen Frontiers Symposium, a two-day symposium highlighting the research of The Paul G. Allen Frontiers Group awardees.
A Scientist's Guide to the 'Exploring Frontiers Symposium: Predicting Biology' at the Allen Institute
UW Medicine, July 29, 2019
Leukemia & Lymphoma Society Announces $4.5 Million Collaboration
Philanthropy News Digest, July 16, 2019
Our bodies are full of electricity that could help us fight cancer
Quartz, May 30, 2019
Jay Shendure's cool job using genome science to assess the risk of disease
Seattle Times, May 29, 2019
New role unlocked for nervous system in regeneration
Drug Target Review, May 1, 2019