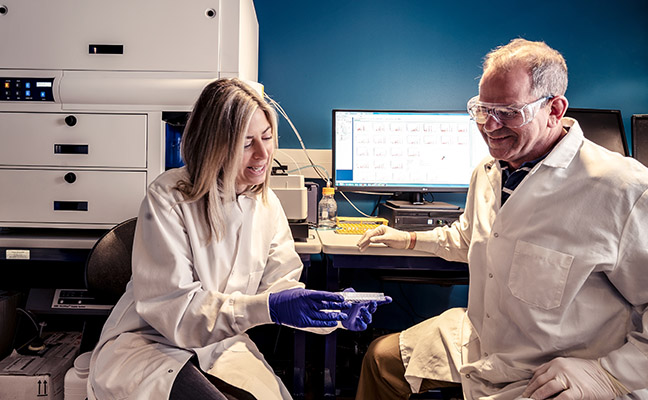 Welcome to the newsletter from the Allen Institute for Immunology, a newly launched scientific division of the Allen Institute dedicated to unraveling the complexity of the human immune system. Read on to learn more about our approach, our team and dedicated partners, and some of the patients who inspire our work.

Executive Director Tom Bumol's life after lymphoma
Earlier this year, we debuted a new online series, Out of Balance, profiling people living with immune-related diseases or their aftermath. Allen Institute for Immunology Executive Director Tom Bumol shared his personal story with cancer in the first installation.

The Allen Institute for Immunology's work relies on a unique partnership with five leading research organizations around the country. Read more about the research projects here, and meet our partners in this video.
See more ►︎

Out of Balance | Linda's life with RA
Linda Sloate is one of more than a million people in the U.S. living with rheumatoid arthritis. Her story, which she shared with us in a recent video, inspires Allen Institute for Immunology researchers in their daily work.

Out of Balance | Alyssa's life with Crohn's disease
Medical student Alyssa Clements bounced from doctor to doctor for her mysterious pain before she was finally diagnosed. Her journey has made her even more determined to reach her goal of becoming a physician.

Hamid Bolouri, Director of Informatics and Computational Biology at the Allen Institute for Immunology, talks about how we're working to transform outcomes for patients.
See more ►︎

Paul Meijer, Director of Software Development at the Allen Institute for Immunology, shares his views on data governance, his vision for his new team, and what motivated him to join the Allen Institute.
Read more ►︎
Before He Died, Paul Allen Gifted $125 Million To A New Institute To Study The Immune System
Forbes, December 12, 2018
Paul Allen's Estate Gives $125 Million to Build Immunology Institute
Bloomberg, December 12, 2018
Paul Allen's generosity gives hope for yet more cures
Seattle Times, December 16, 2018
The Allen Institute for Immunology
KING 5 News, December 12, 2018
With a gift from the late Paul Allen, his philanthropy launches ambitious plan to probe human immunology
STAT, December 12, 2018