New free lesson plans, posters for your classroom, and more resources for teachers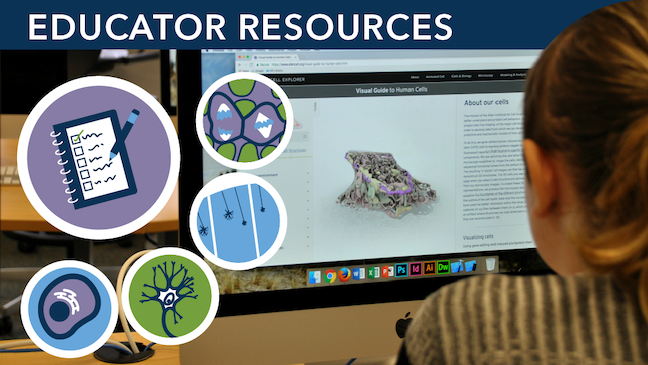 Summer 2021 Educator Newsletter
As you prepare your fall curriculum, Allen Institute educator resources, open data, and other tools can help support your teaching. Explore our turnkey lesson plans guiding your students through fundamental topics in biological sciences with worksheets, demos, and real online experiments. Our educator resources also include classroom posters and materials for educators to navigate our open datasets and tools.

First immunology lesson materials for educators
Explore our first lesson materials on the human immune system. Geared towards high school students with no prior exposure to the immune system, this lesson introduces basic knowledge of functions, cell types, and disorders of the human immune system and includes a hands-on model building activity.

Refresh your classroom for fall: request posters
Planning for your return to school this fall? Refresh your classroom with free posters illustrating concepts in neuroscience and cell biology. We'll ship them anywhere in the US at no cost to you.

Behind the Scenes of Science: Webinars for students
Enjoy videos from this webinar series on career paths in science for educators and students at the high school and early college/community college level. You'll go behind the scenes of science to meet the professionals who make our research possible and get a glimpse of the many different careers in science.
View videos ►︎

Lab Notes: The stories behind the science
The Allen Institute's podcast, Lab Notes, pulls back the curtain to reveal the human stories behind headline-grabbing scientific studies and breakthroughs. Our latest episode, Fire Inside, tells the story of Linda Sloate, who has been living with rheumatoid arthritis for 40 years.