Explore our new lesson plan, podcasts, and more resources for your class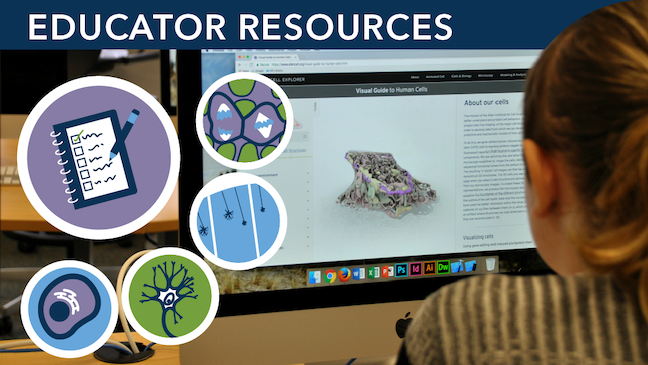 Whether you're planning your next virtual lesson or thinking about returning to the classroom, Allen Institute data resources and classroom tools can help support virtual and in-person learning. With our open data and supporting resources for educators, you can augment data collected by your students, analyze data you might not otherwise be able to access such as human brain data, and have your students practice their analysis skills. Read on for some featured resources.

New lesson plan: Exploring Pathways in the Brain
Check out our newest lesson plan for teachers, Exploring Pathways in the Brain. This lesson primarily uses the Allen Mouse Brain Atlas and Allen Mouse Brain Connectivity Atlas to walk students through an increasingly challenging set of analyses, customizable for levels from advanced high school to advanced college.

Introduction to the Allen Brain Map
Designed for new users of the Allen Brain Map from students to professionals, this tutorial introduces the breadth of open data resources available from the Allen Institute for Brain Science.
Watch video ►︎

Lab Notes | A podcast from the Allen Institute
Hosted by science writer Rachel Tompa and creator Rob Piercy, the Allen Institute's new podcast, Lab Notes, pulls back the curtain to reveal the human stories behind headline-grabbing scientific studies and breakthroughs. Our latest episode features novelist Yaa Gyasi in conversation with her friend and inspiration for her latest book, neuroscientist Tina Kim.

Behind the Scenes of Science webinar series
Enjoy videos from this webinar series for educators and students, geared towards students at the high school and early college/community college level. You'll go behind the scenes of science to meet the professionals who make our research possible, and get a glimpse of the many different careers in science.