Learn more about new cell lines, plasmids and cell biology educator resources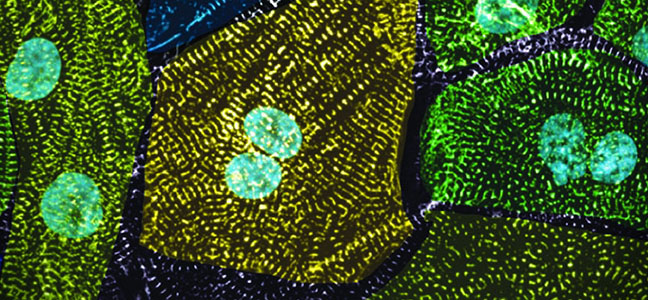 To understand human cells, scientists look beyond genes
A new study, published recently in Cell Systems and featured on the journal's cover, takes a deep dive into detailed images of human heart cells and uncovers a disconnect between gene expression and cell structure. The study was also highlighted in a special Cell Systems editorial for the journal's 5th anniversary.
Read more ►︎

Three new cell lines are available in the Allen Cell Collection: two single edited, nuclear lines in which DNA replication foci (with mEGFP-tagged PCNA) or CTCF-binding sites (via mEGFP-tagged CTCF) are visualized; and one dual edited cell line labeling mitochondria (via mEGFP-tagged Tom20) and microtubules (via mTagRFP-T-tagged alpha-tubulin). Donor plasmids for all lines are also available from Addgene.
Learn more ►︎

Open for Cell Science: Online tutorials
Join us for a series of tutorials showcasing open resources from the Allen Cell Explorer. At these tutorials, learn how and why to integrate Allen Institute for Cell Science open cell lines and software tools into your research. Upcoming tutorials in the fall feature the Allen Cell and Structure Segmenter and 3D cell visualization tools. June's tutorial on the Allen Cell Collection is available to view online.

Lab Notes: The stories behind the science
The Allen Institute's podcast, Lab Notes, pulls back the curtain to reveal the human stories behind headline-grabbing scientific studies and breakthroughs. Our latest episode, Fire Inside, tells the story of Linda Sloate, who has been living with rheumatoid arthritis for 40 years.